Counseling TCKs Therapist Training
This training will cover:
The Unique Needs of TCKs in Therapy
DSM Coding and Diagnosing
Common TCK Misdiagnoses
Developing a TCK-relevant Intake Form
Tips for Guiding Your Sessions with TCKs


You can view the full agenda of the training below!
Counseling TCKs Therapist Training has been approved by NBCC for NBCC credit. TCK Training is solely
responsible for all aspects of the program. NBCC Approval No. SP-4339.
Instructor
Lauren Wells & Jacquie Kubr
Time
9am - 12:15pm EST
1pm - 4:15pm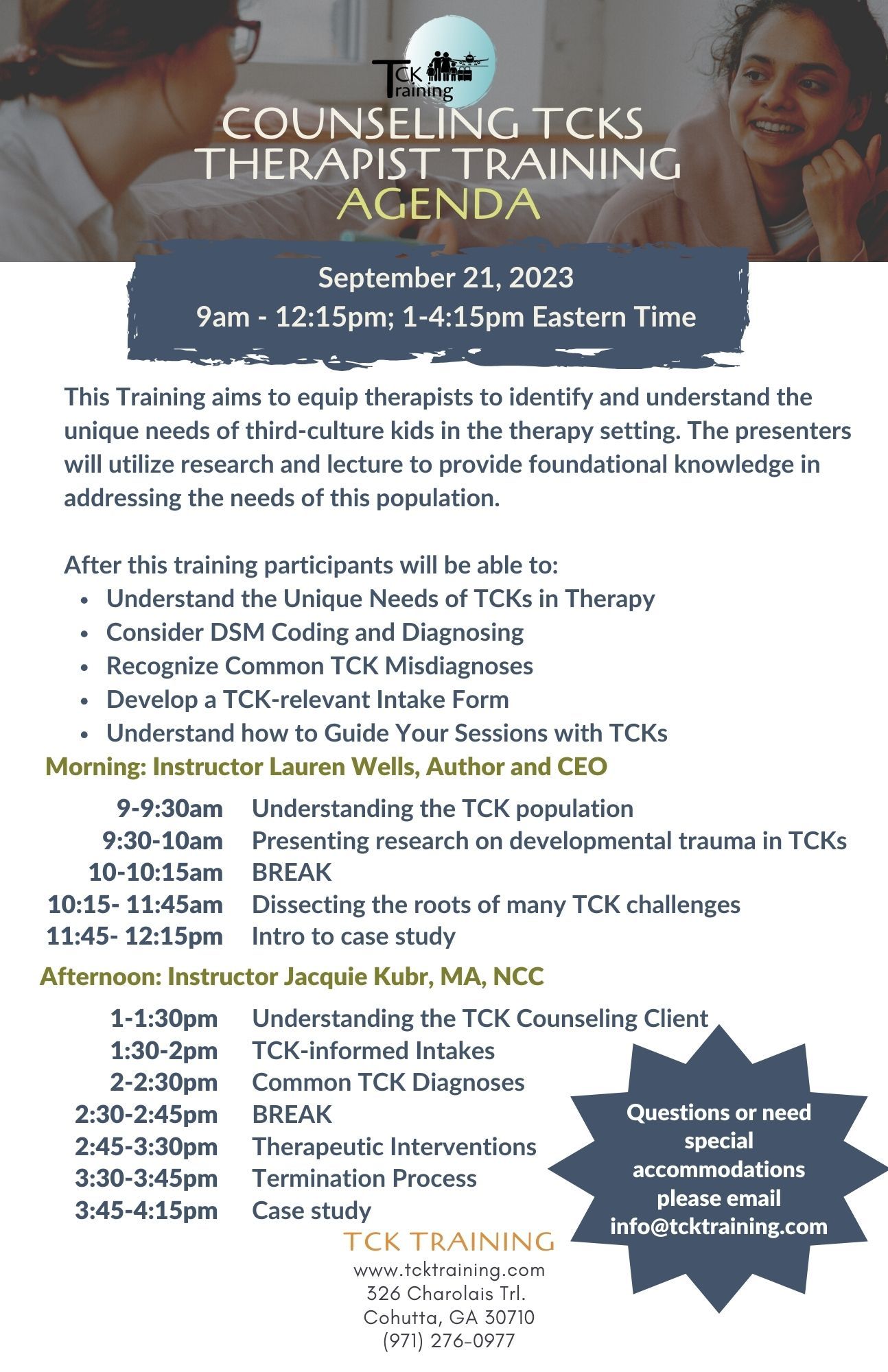 Lauren Wells
Chief Executive Officer
Lauren is the Founder and CEO of TCK Training and author of Raising Up a Generation of Healthy Third Culture Kids, The Grief Tower, and Unstacking Your Grief Tower. An Adult Third Culture Kid (ATCK) who spent her teenage years living in Tanzania, East Africa, Lauren has worked with over 1,000 parents and TCK caregivers and has trained staff from over 80 organizations.
Jacquie Kubr
TCK Training Caregiver
Jacquie has a background in Clinical Mental Health counseling with a specialization in Trauma Studies. She has partnered with families in their overall health and wellness for over fifteen years. A mother to five, Jacquie's youngest two are international adoptees and are growing up as CCKs. She and her family live north of Nashville, TN.
Need Help Navigating the Website?
LAUNCH SALE
Self-Guided Unstacking Course
for ATCKs